ARTIST-LED PROJECTS HOSTED BY KINGSGATE PROJECT SPACE @kingsgateprojectspace

@broccoli_jardinage - @h.o.p.e.london - @lleprojects

more projects in (part 2) this summer.

STAGE
part of
P E B B L E / S H O E

FRI 24 FEB (6-9) / SAT 25 FEB (12-6)

John Abell Jo Berry Abi Birkinshaw Sarah Boulter Dave Brook Gordon Dalton Lara Davies Roslim Dew Tamara Dubnyckyj Robbie Fife Elliott Flanagan Rebecca Gould Abigail Hampsey David Hancock Callum Harvey Beatrice Hasell-Mccosh Marielle Hehir Maggie James Gareth Kemp Dean Knight Iwan Lewis Rhiannon Lowe Daniel MacCarthy James Moore Ruth Murray Philip Nicol Mahali O'Hare Tom Pitt Chantal Powell Ben Risk Fiona G Roberts Robin Tarbet Liorah Tchiprout Ruby Tingle Toby Ursell Casper White Dylan Williams Ellie Young






Plus panel discussion event:

Come Fail Here: Why Project Spaces Are Not Galleries, Why They Matter + How to Start Your Own - with artist-led projects + writer/critic and champion of project spaces Chris Fite-Wassilak. THU 9 FEB (6.30 FREE)

Kingsgate Project Space
110-116 Kingsgate Rd, London NW6 2JG

I put a pebble in my shoe /
Every step I am with you
Eugenius (1994)
@fritz_fassbender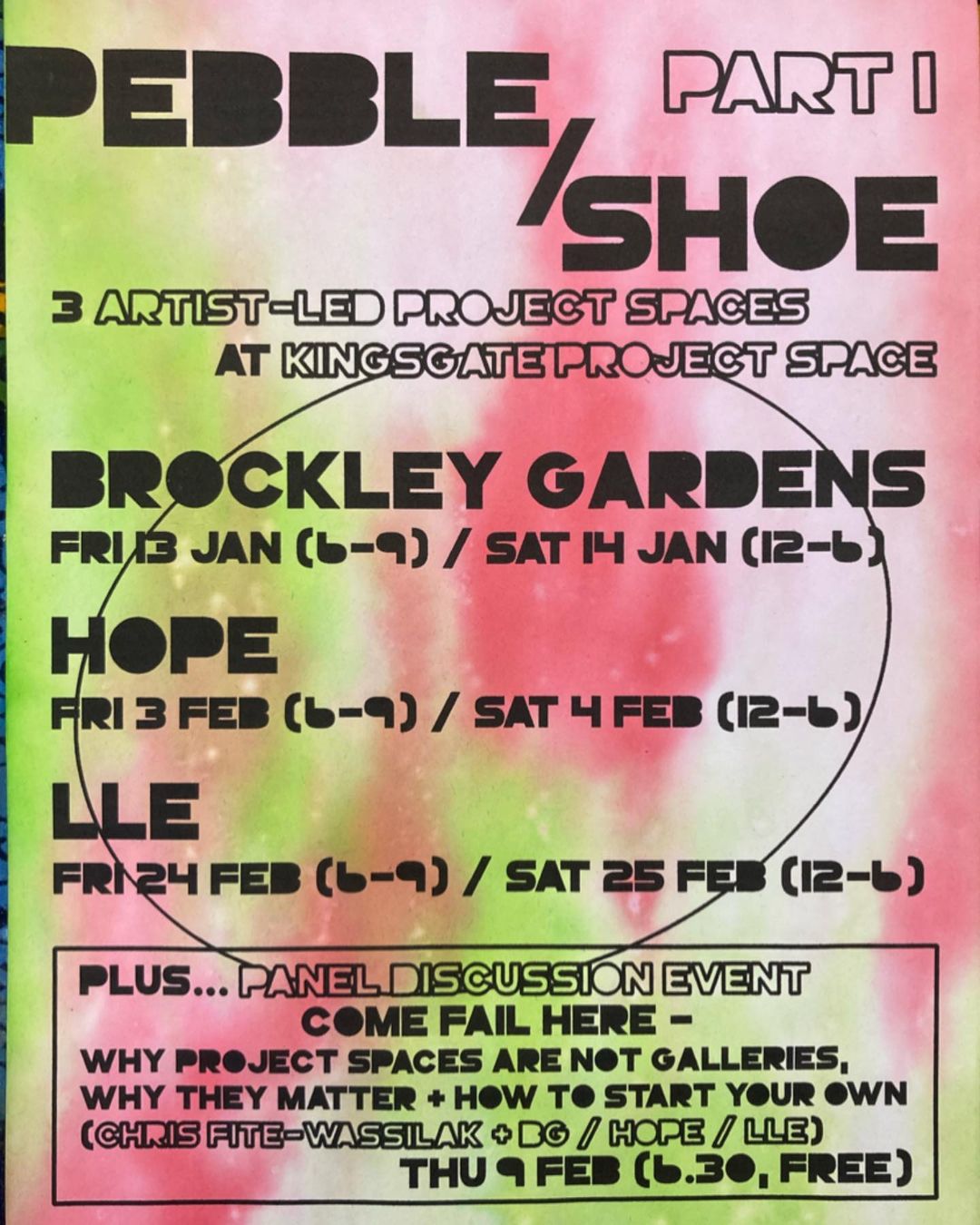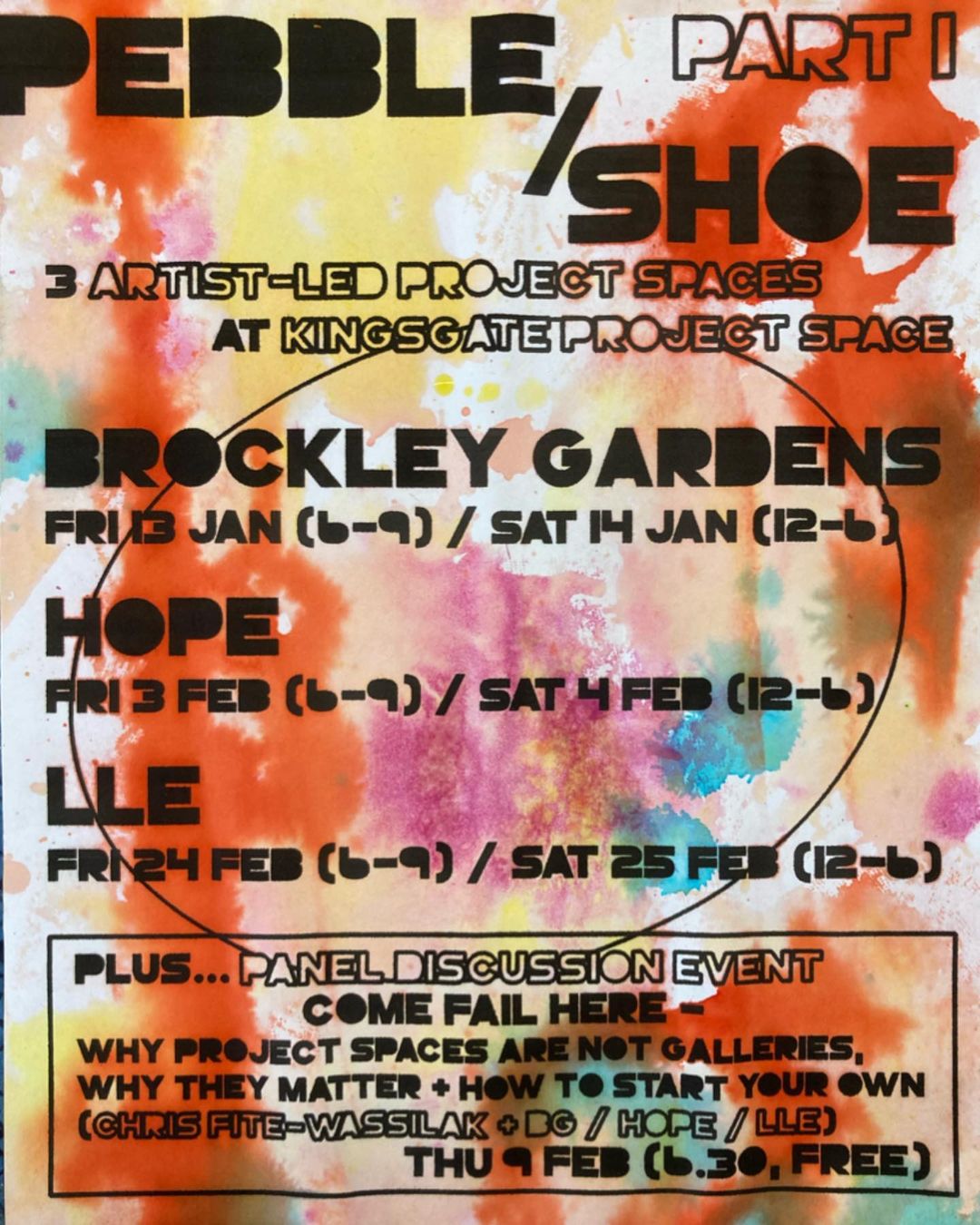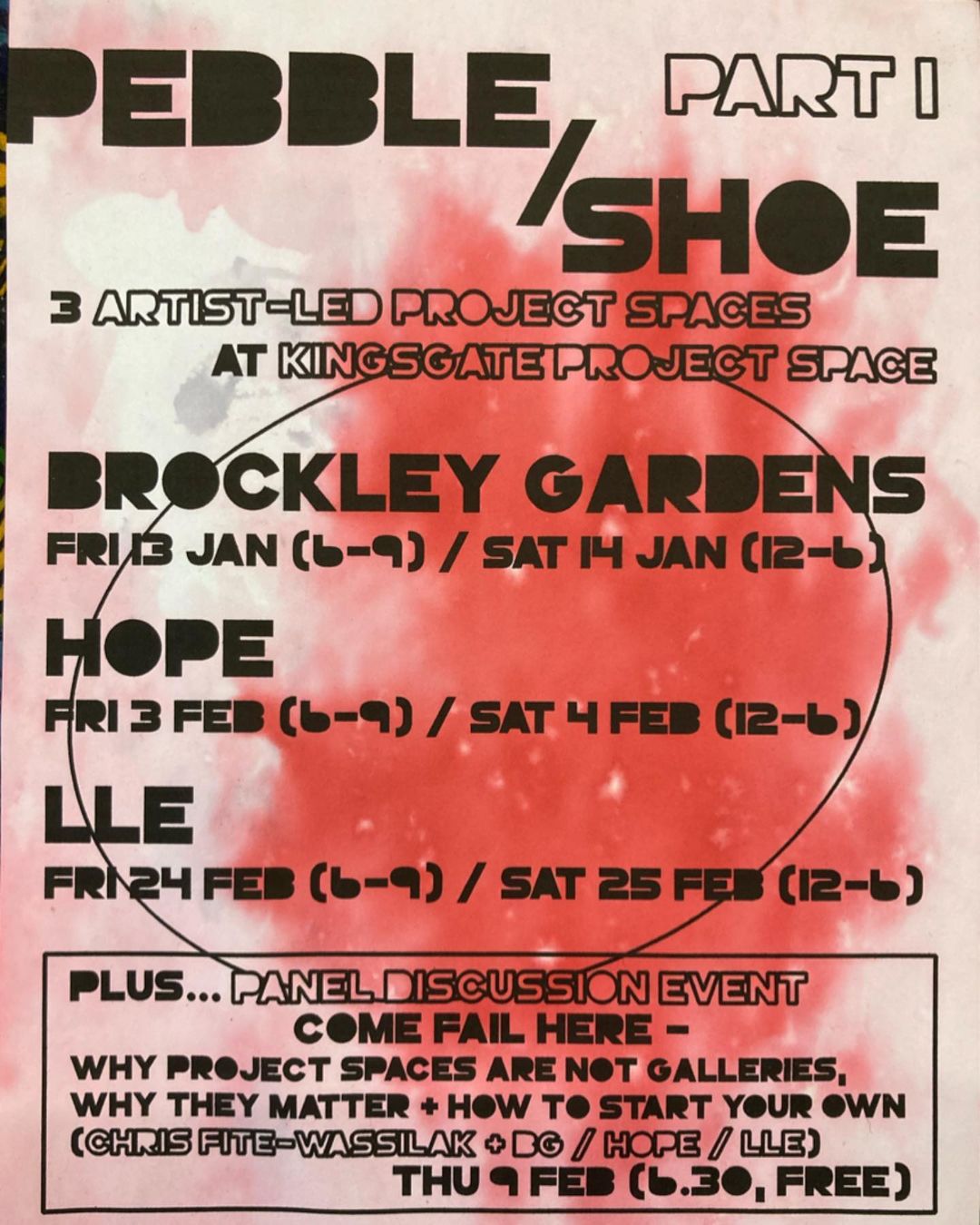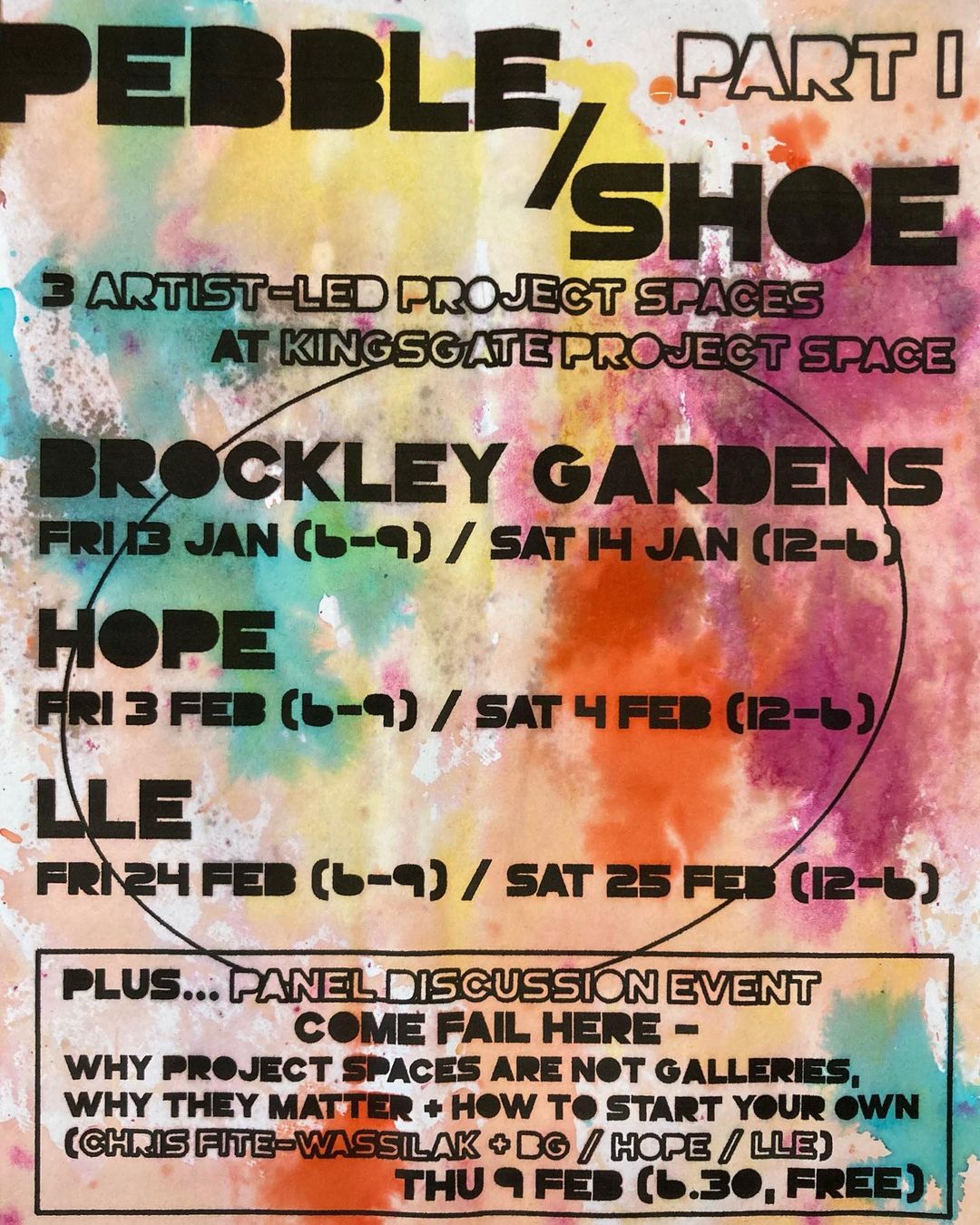 Backdrop

Big. Flexible. A whitewashed cave wall. A museum wall. A thing in the background that is like a wall. Something hung over a wall. A blurred matte painting at the back of a movie set. A piece of fabric from a stage set. Curtains at the back of a stage behind a band. Something to be covered in other artworks. Activated by them.

Panel
Small. Rigid. Seemingly self-contained. But they change depending on what's behind them or near them. Can be moved around easily.

Stage is a multi-artist installation and zine project curated by LLE (Casper White and James Moore).

The artworks all relate to the theme of 'stage'.

The first installation is at Kingsgate Project Space, Kilburn, London.

The installation consists of two formats of artwork:
1. large backdrops.
2. small works on panels.

Participating artists were invited to produce both backdrops and small works on panels.

The backdrops are hung on the gallery walls and are at least 1 metre in height or width. They are large-scale drawings, paintings, textile and fabric hangings, and pre-existing items such as posters.

The smaller works on wooden panels are hung on-top of the backdrops.

The backdrop pieces are necessarily damaged during the installation, as holes are pierced through them to hang the smaller wooden panels on top. The installation is changed during the exhibition, with works being moved, added and removed.